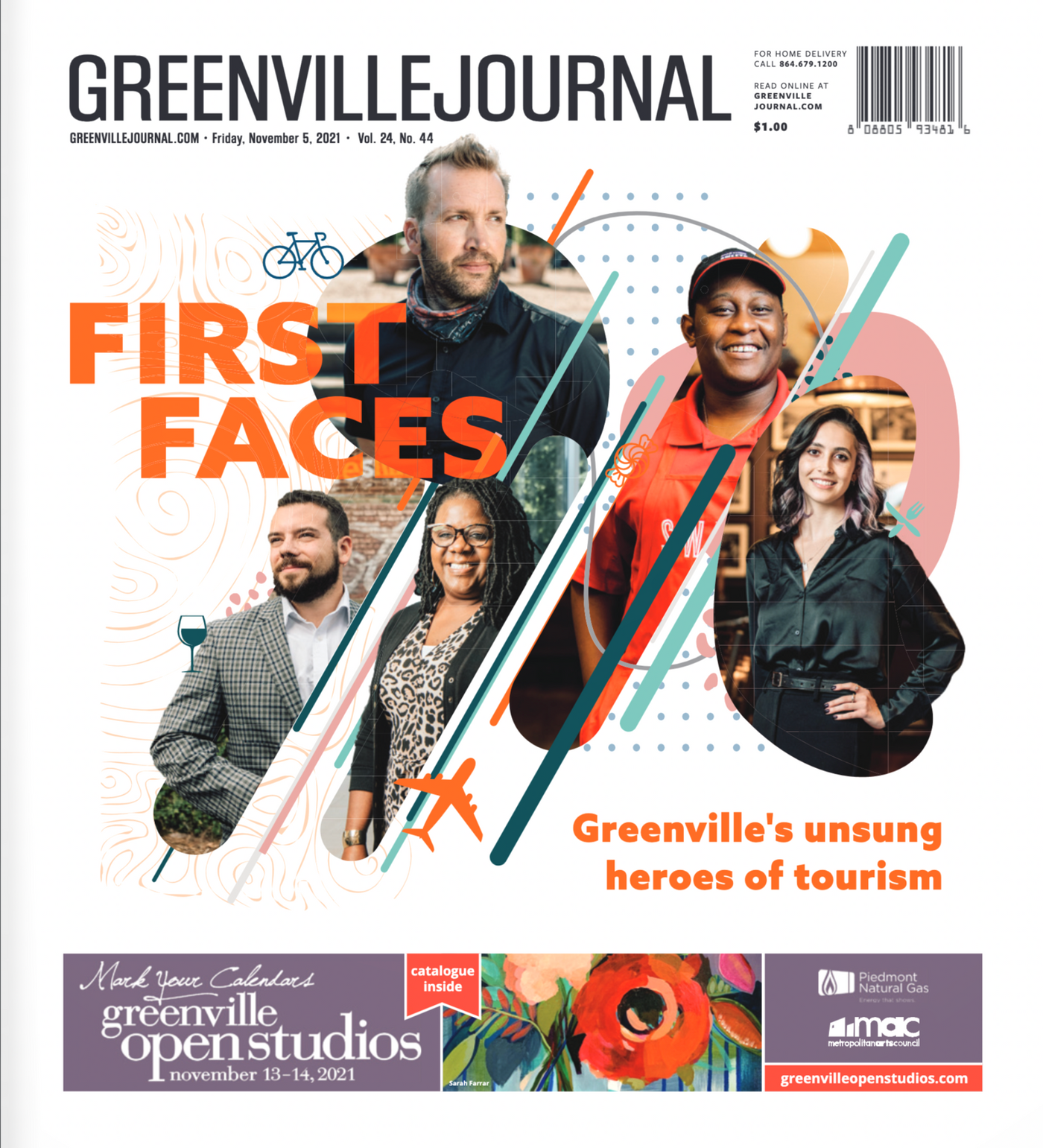 FRONT COVER EDITORIAL STORY "FIRST FACES: GREENVILLE TOURISM'S UNSUNG HEROES"
First Faces: Greenville tourism's Unsung Heroes
Kim Davis, Customer Service and Community Relations Manager, Greenville-Spartanburg International Airport. Photos by Jack Robert Photography
When you talk to Greenville's meeters-and-greeters, who are often the first face tourists see here, you learn something you may have never considered: People come here from all over the world to visit. As our tourist whisperers will tell you, many return to stay.
"Myself included, I'm not from here. I've met more people from other places than I have from Greenville, South Carolina," says Bobby Hubbard, operations manager at High Spirits Hospitality and native of Springfield, Massachusetts who moved here in 2011.
"Unsung Heroes celebrates the people who are behind the experience of Greenville to make our destination phenomenal. Coming out of the fear and hurt of this pandemic, these are the actual folks who still showed up with dedication and care. It's a remarkable comment on the strength of our community." – Megan Byrd, VisitGreenvilleSC Director of Marketing
Along with Greenville's growing collection of awards — most recently, No. 5 on Condé Nast Traveler's "2021 Best Small Cities in the U.S."— our town has also become a national player in tourism.
Of the industry's growth in Greenville, Hubbard says, "I think for folks that have been down here for a while, it's kind of shocking, but in recent years, it really isn't for those who have never been here."
In other words, Greenville feels as if it has always been a tourist draw.
And so VisitGreenvilleSC and the Greenville Journal asked for nominations for behind-the-scenes heroes who work to make visitors feel so welcome. Here, then, we introduce you to several "Unsung Heroes of Tourism."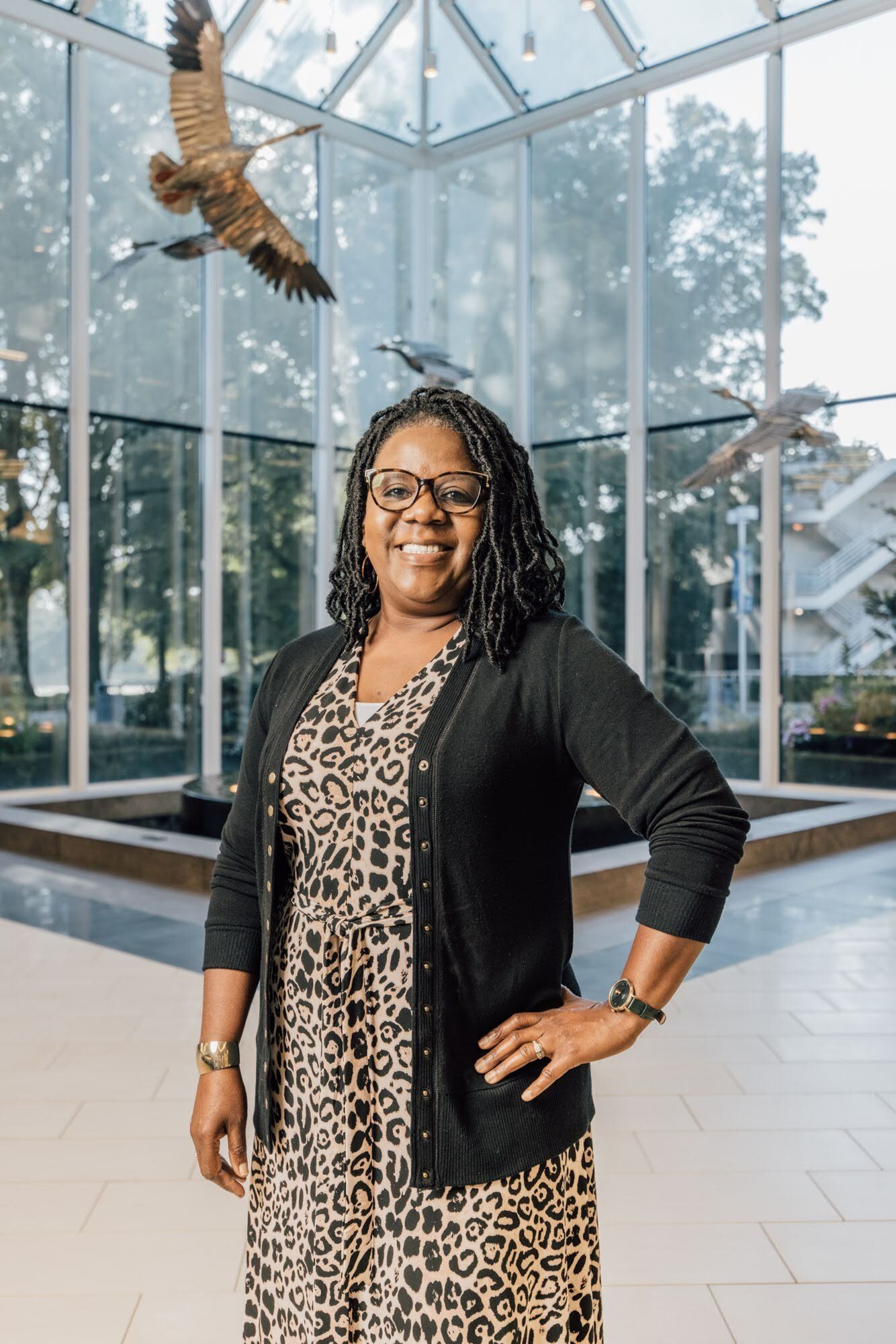 Customer Service and Community Relations Manager
Greenville-Spartanburg International Airport
Job duties:
Managing GSP Information Center staff, fields customer questions and complaints, among others.
Kim will never forget one seriously unforgettable day dealing with visitors here. That day was 9/11, barely a year after becoming a GSP employee. Back then, she worked part-time in customer service. That morning, she learned from a Delta representative about a Delta plane slamming into one of the World Trade Center towers.
"I immediately reported to my station on the frontlines," she recalls, "and, of course, it was such a surreal day, but everybody was calm that day, everybody was super-calm."
A traveler had just arrived from New York for a family gathering. Now she was waiting to hear from loved ones. "She was just absolutely beside herself, just absolutely frantic," Kim says.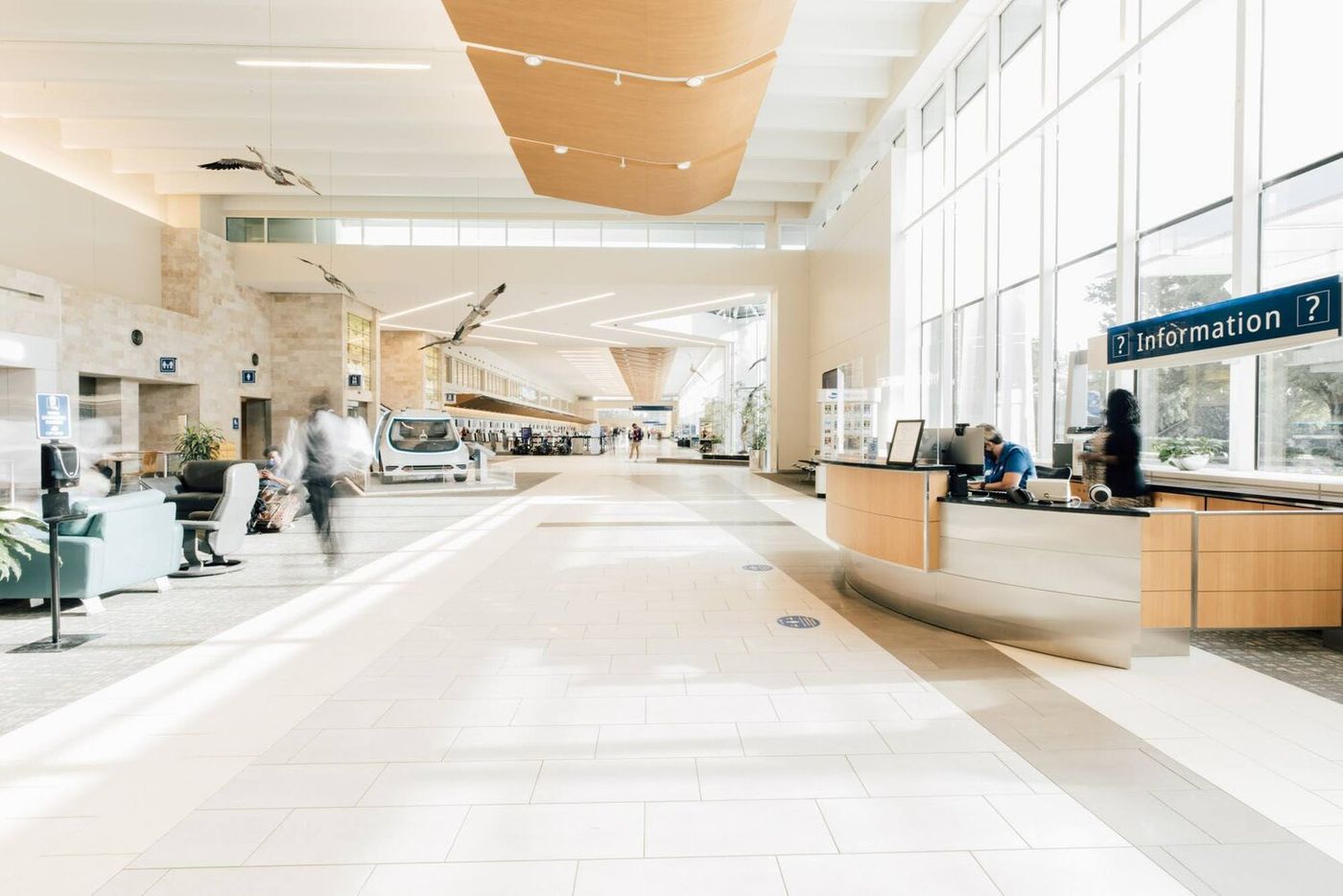 Folks from Greenville and Kim's native Spartanburg who happened to be at the airport rallied around the woman, she says. The woman was short on funds. People gave her food and money. One person invited her to dinner at home.
"Those are heroes," Kim says. The traveler soon learned her family was okay.
Now, Kim says: "She comes and she sees how much Greenville has grown, how much it changes, but she said that because of that experience, this is the place that she wants to retire to. This is the place that she wants to call home."
Then she adds: "This is what we're supposed to do, right? To be in service for one another, that's what God would have us do: service."
What her nominator said:
She has a job that could wear her down and put her in bad spirits, but she is always bright, shining and happy. Over the last year, she has been tested with deaths in her family due to COVID-19 and other illnesses.
People may not notice that she is a large part of what makes our company culture — and airport — so welcoming. People watch her and learn from her, how to be a true example of a servant leader, every day.
She is a blessing to our team and to each one of us personally. On a side note, she also has an impeccable sense of style!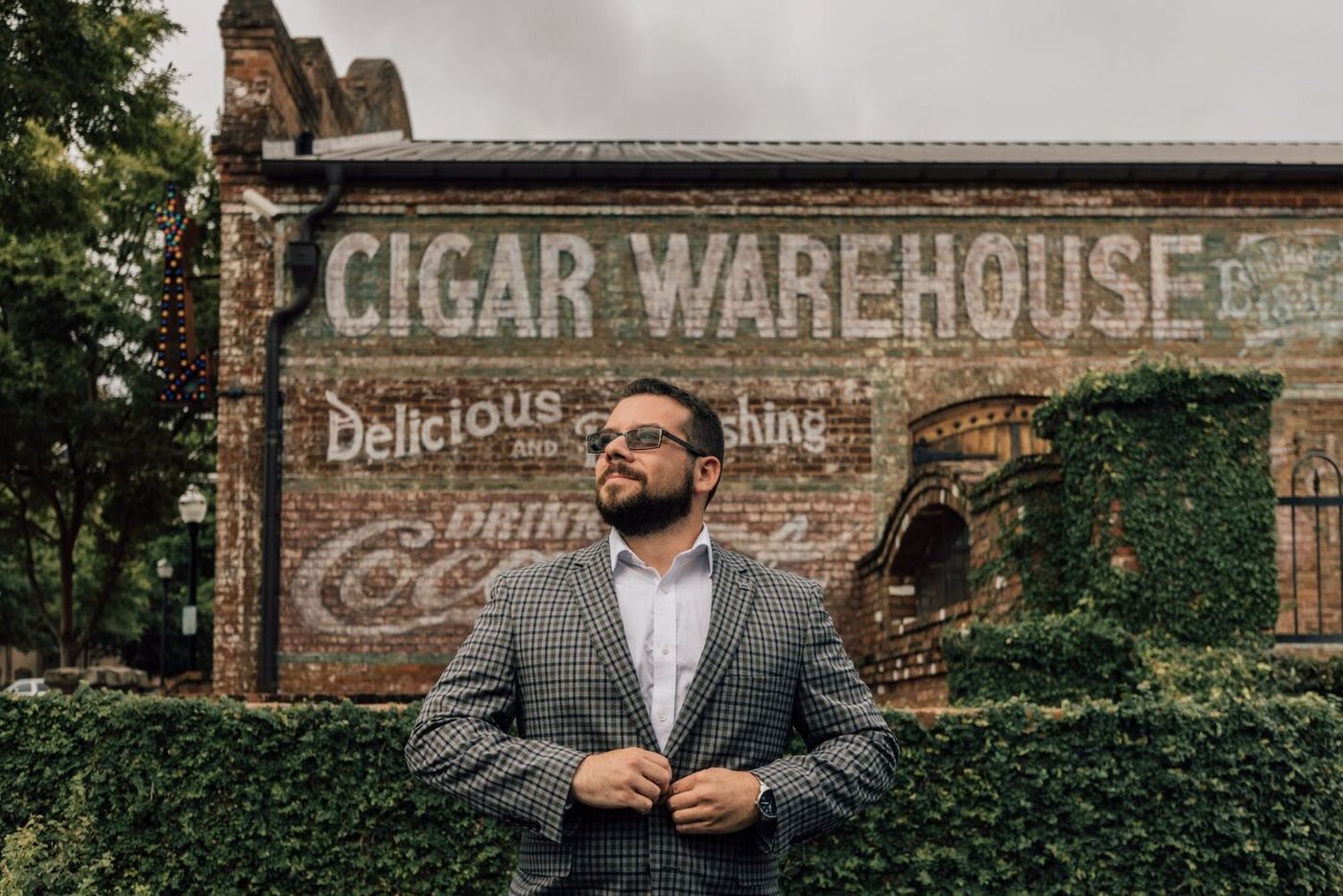 Operations Manager
Job duties:
Coordinating all logistics for onsite and off-site events; leading the company's new catering division.
Bobby Hubbard knows all about a full-court press. He is, after all, from Springfield, Massachusetts, home of the National Basketball Hall of Fame. Before moving to Greenville in 2018, he worked for a company that catered events there, among other marquee venues. He reflects on his recognition as one of Greenville's Unsung Heroes, about "how special it really is to be nominated by someone in the community or one of your peers, saying, 'Hey, this person needs to get recognized for everything that they do.'"
In turn, the recognition adds credibility to the people who are, in fact, the gears that drive the tourism machine. "With something like this, their voice can be heard a little bit more and maybe give them the confidence to say, 'You know what, I am doing great. This is something special, I'm a big part of it,'" Hubbard says.
He says he sees Greenville's tourism boom as a relatively new phenomenon, so recognizing Greenville's unseen champs gives them a place at the table, a "new platform."
As all the others say here, the hospitality industry is a team sport.
"It really takes everything, and everyone in between, to make something happen. So I appreciate being recognized as an Unsung Hero," he says. "With so many incredible and talented and hardworking individuals to still be recognized, that's really great, too."
What his nominator said:
Bobby is responsible for making sure every event runs smoothly. That includes everything from catering food to setting up bar service to making sure the sound system is working properly on any given day. He manages all the little details behind the scenes so that event-goers — and that includes lots of brides on their wedding day — have a wonderful and unforgettable experience.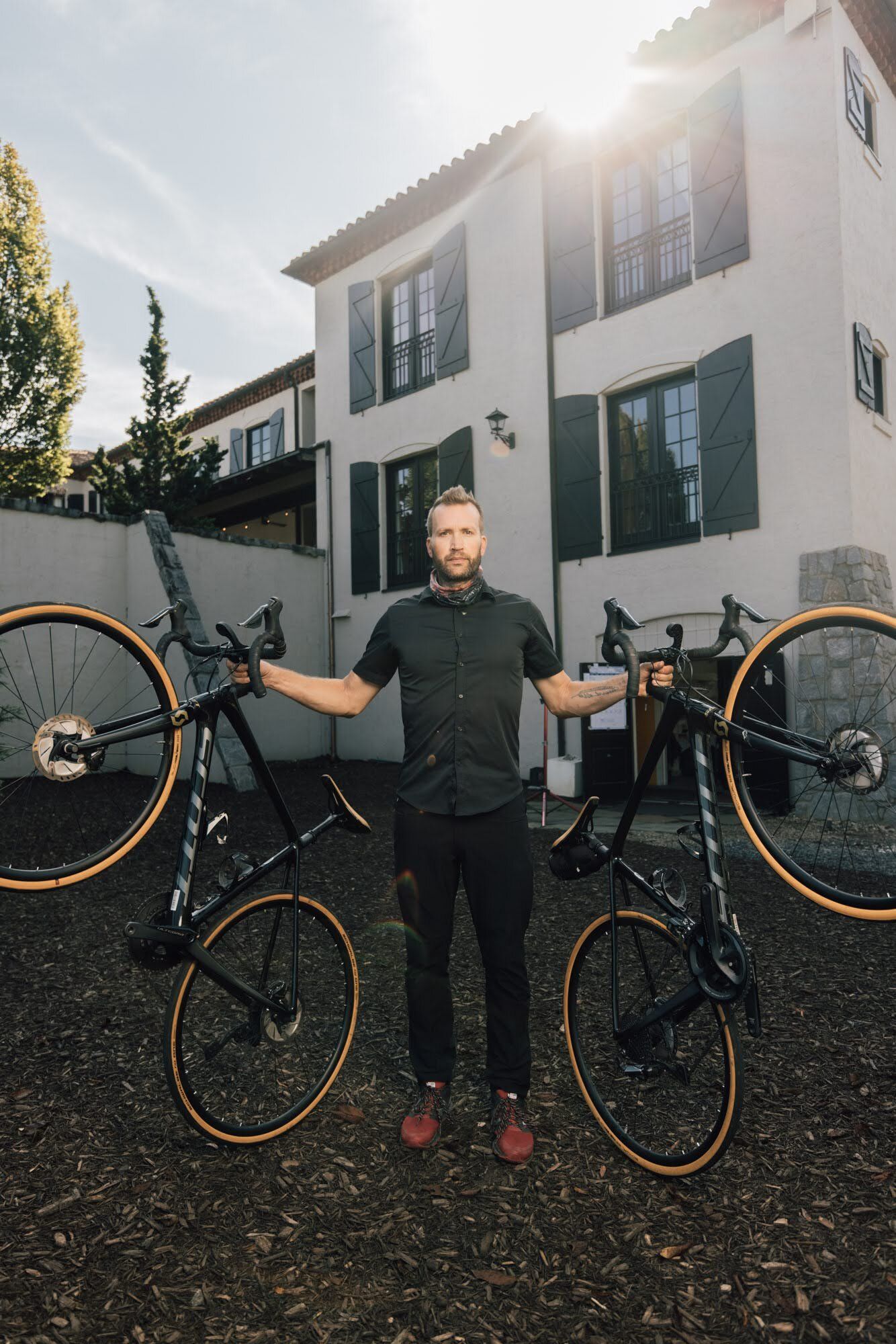 Head of Maintenance/Bike Manager
Job duties:
All property maintenance, from air-conditioning to the pool, electrical to paint, plumbing, and all other issues. Bicycle upkeep and maintenance. Guest cycling experiences.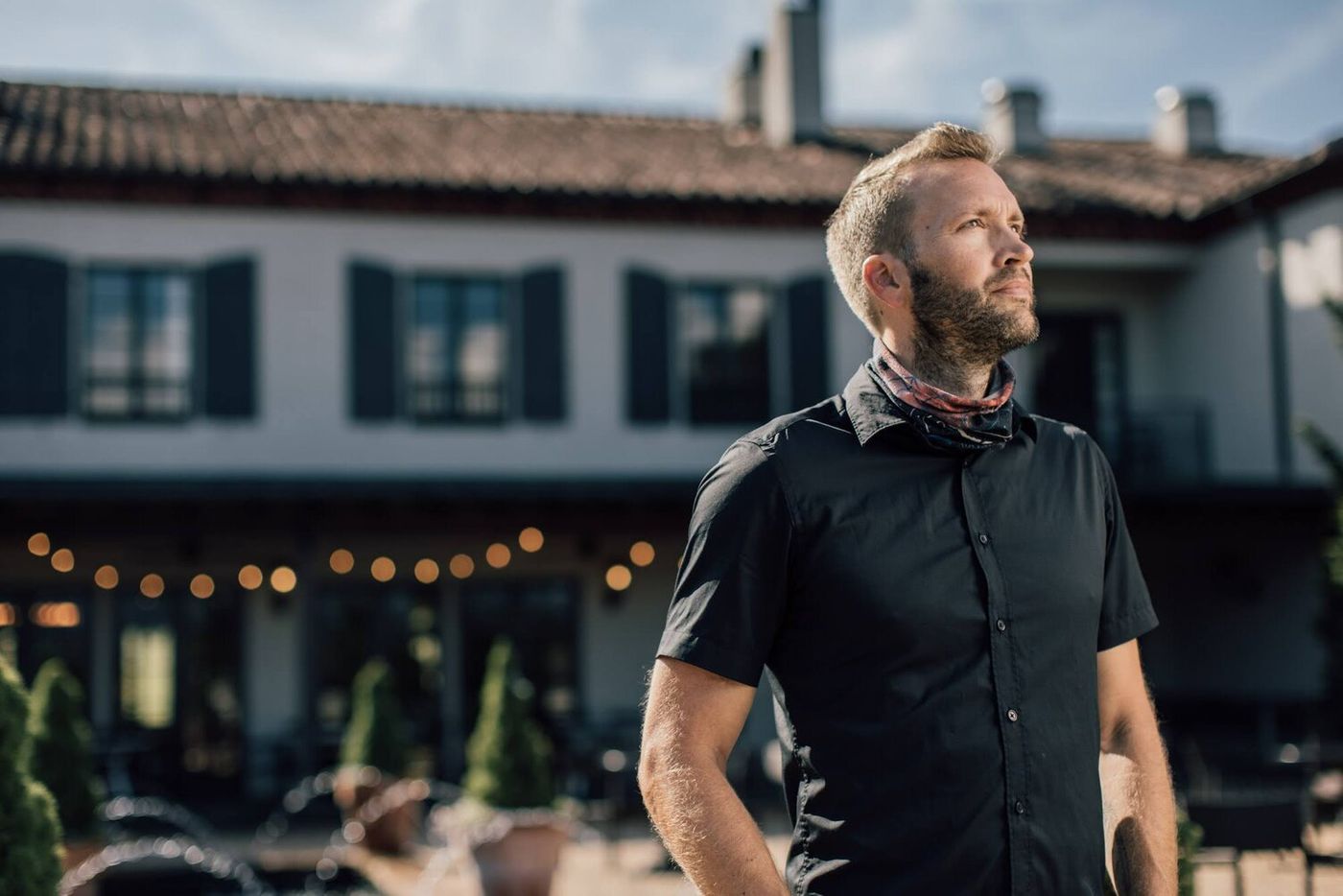 You could call Chad Greenwood something of a spokesman for the chic hotel in Travelers Rest. He's the "wheel-deal" for cyclists who stay at Hotel Domestique for an opportunity to ride with the likes of Tour de France hero George Hincapie.
Originally from Syracuse, New York, Chad arrived in Greenville in 2011. These days, as the hotel's bike mechanic, he wears lots of other casquettes — those distinctive cycling caps. He fixes everything from air-conditioners to guests' cars to, yes, bicycles, and he's occasionally out blowing leaves.
Hotel Domestique
Multiple guests come to town looking for property and, of course, to ride, he says. He recalls one man who asked the hotel manager's help in finding a place — and ultimately bought 30 acres about 4 miles away from the chateau-like hotel.
Bobby, who still works as the man's bike mechanic, says the hotel's décor inspired the new home's interior design. Of his recognition as an Unsung Hero, the 20-year bicycle repairman says, "I wasn't expecting any awards, just kind of making sure everybody had a good time — as little problems as possible while they hang out."
What the three nominators said:
Chad is the behind-the-scenes person that keeps everything together. He single-handedly keeps up with the maintenance of the entire property and is always on hand to fix things in a flash.
His calm, kind nature brightens the day of everyone he encounters, and he is a guest favorite — ensuring their cycling experience is unforgettable.
His tireless work is easy to overlook because he always has everything running so smoothly, but make no mistake, he is by far one of the hardest-working people I know.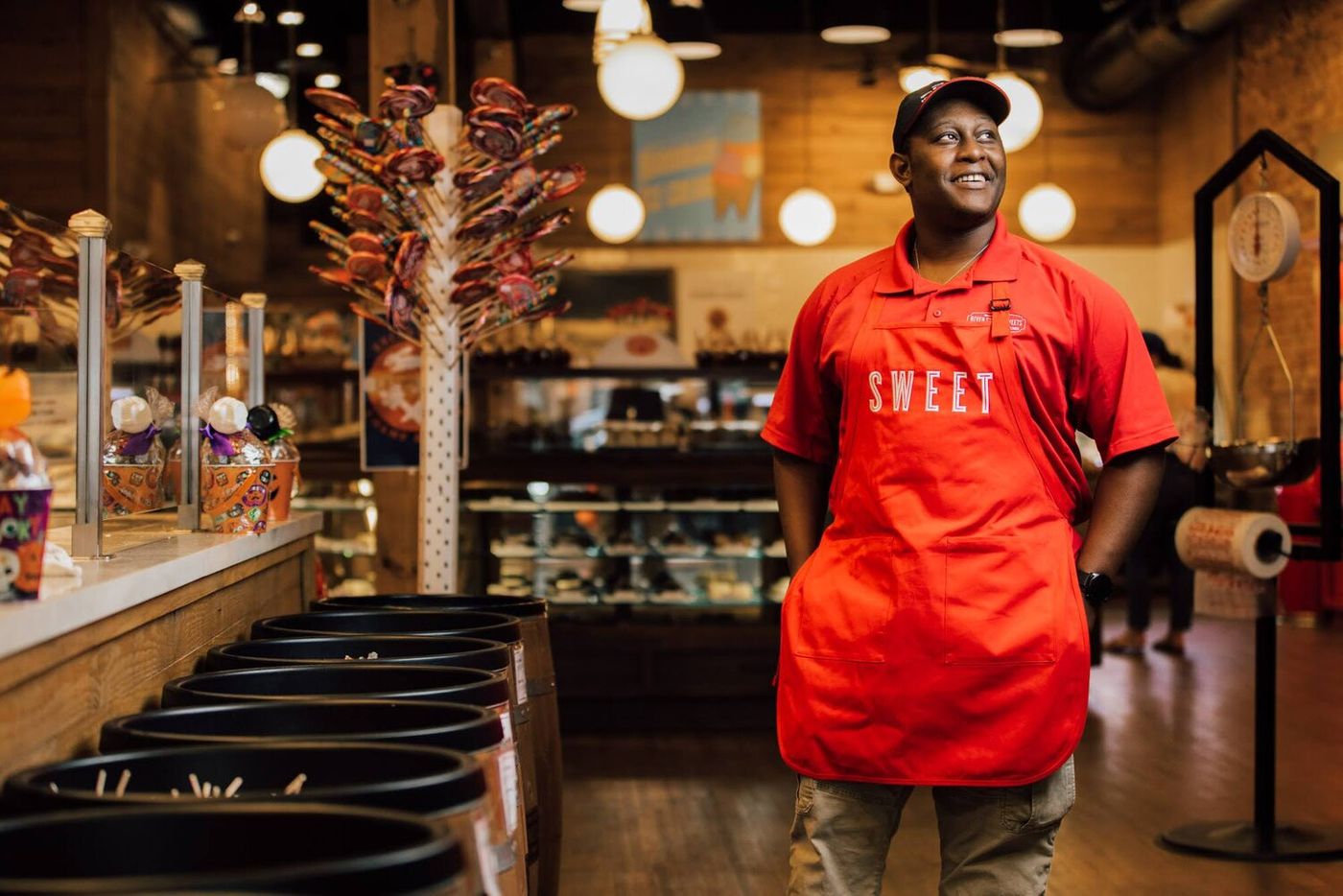 Shawn Flowers
Assistant General Manager
Job duties:
General oversight, drives sales, hires, supervises, plans production, orders, cooks and cleans.
Shawn has — okay, let's just say it — a sweet job, and he wants to make Greenville even sweeter for tourists.
He has been working at River Street Sweets in downtown Greenville since 2019. Now, he manages seven people at the franchise (among more than a dozen nationwide).
When he learned of his Unsung Hero recognition, he says, "I was happy, I was real, real giggly. I couldn't stop laughing. Not every day people get the recognition they deserve for what they're going towards, moving towards: getting a lot of people to come to our store." And getting a lot of people to visit his hometown, too: "I'm trying to get it so this is one of the main stops for tourism."
What his nominator said:
Shawn was a cashier and in-training cook when we closed in 2020 due to COVID. (When the store reopened, the staff consisted only of Shawn and the owner.)
He very well could have stayed home and collected unemployment. Instead, Shawn, who demonstrates an exemplary work ethic, was anxious to get back to work regardless of the disparity between pay and unemployment benefits. He was the key player to rebuild sales and staff in our restart during the pandemic. Shawn brings the very best of a "can-do" attitude to the table. In such an uncertain environment, his confidence and ability to stay positive and always be moving forward made all the difference. Our store ended up weathering the pandemic so much better than so many others, but without him, that very well may not have been the case.
I could not have found anyone better to partner with to put our store back together after such a devastating event as COVID. Someone who works as hard as Shawn without ever complaining at all is a rare find.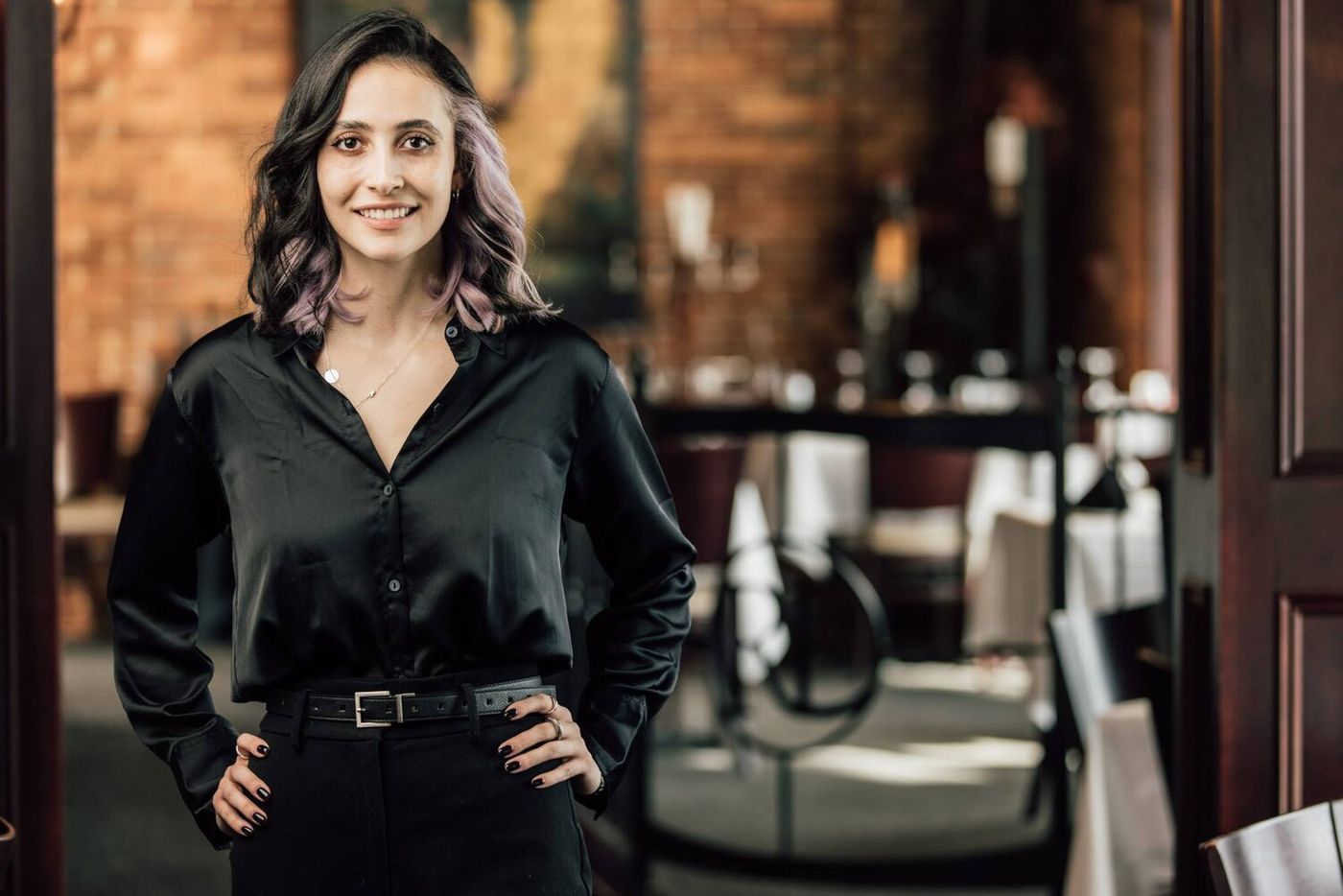 Sofía Morgenroth
Hostess
Job duties: As a hostess, she greets guests, helps with reservations, provides menus and answers the phone.
Among the nominees, Sofía Morgenroth may very well be the poster child for Greenville's international community: the French who work for Michelin, the Germans with BMW and so many more expats who add so much to the city's cosmopolitan flavor. She was born in Mexico to a Mexican mom and her German father moved the family here in 2015 to work at a company that supplies parts to Audi, Mercedes and BMW. Today, the 21-year-old Eastside High School graduate is the youngest nominee.
These days, she's the first person patrons meet when they walk into Rick Erwin's West End Grille, where she has been a hostess since joining the company in May. "I was kind of shocked because my manager didn't tell me," she says, "so I guess it kind of caught me off-guard, but it's quite an honor."
Because she didn't know how to drive in high school, opportunities to explore Greenville were limited. Now, like the tourists she serves, she's still discovering locals' haunts. "You have to do a little research or know people that know some nice hidden spots in Greenville," she says. "They have a lot of nice hidden gems, you just have to pay real attention to it, and I'm sure if more people knew about them, it'll create more tourism."
She lauds the Upstate's four seasons, hiking, the city's growing popularity, the vibe that draws those who want to start their families here — and, as she has seen since arriving here, the escalating growth in tourism. She encourages the city to highlight more of Greenville's landmarks, history and arts scene: "I believe there's a lot of potential for many to come and see what it's like."
What her nominator said: "She goes above and beyond every day to make sure our guests are happy. She is so positive and friendly."
GREENVILLE TOURISM BY THE NUMBERS
2019
(pre-COVID-19)
5 million travelers

More than $1.3 billion in spending throughout Greenville city and county

13% higher than 2015

Supported an estimated 10,900 jobs (that is, unsung heroes)

6% higher than 2015
2015
Fewer than 5 million (exact number N/A)

$1.14 billion

10,300 jobs
Also notable: From 2011 to pre-COVID 2019, state Accommodations Tax revenues generated in Greenville rose 73%. Restaurant sales during the same period jumped 35%, with visitors accounting for roughly a third of those sales.
Sources: VisitGreenvilleSC and VisitGreenvilleSC 2018 report, U.S. Travel Association